We are delighted to announce that one of our latest projects, Villa Pirogovo, has been published on Archilovers and we hope you'll be enchanted by this sustainable architecture!
Check the photos, drawings, and info out here:
https://www.archilovers.com/projects/296805/villa-pirogovo.html#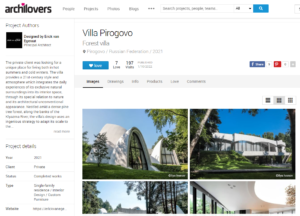 The private client was looking for a unique place for living both in hot summers and cold winters. The villa provides a 21st-century style and atmosphere which integrates the daily experiences of its exclusive natural surroundings into its interior space, through its special relation to nature and its architectural unconventional appearance.
Nestled amid a dense pine tree forest, along the banks of the Klyazma River, the villa's design uses an ingenious strategy to adapt its scale to the landscape and meet the unique needs of the client. The villas' private spaces are housed in domes that project proudly from the main volume at various points. Each of the domes has its own individual connection to the common areas, containing living, dining, library, pool, terraces, and other recreational areas. A sweeping vaulted ceiling shelters this common space and amalgamates the different domes into a collective sculpted composition. This way the mansion adapts its scale to the context and dissolves into it. Finally, the exceptional quality of natural materials and excellent craftsmanship of this villa allow it to sustain for generation to come…